Swirl started with a dream.
We wanted every woman with Afro or curly hair to look and feel her best. We wanted all women to be confident knowing that wash day wasn't full of toxic nasties.
We wanted to make sure detangling didn't clog drains and oceans with harmful microplastics.
---
We first started work on Swirl 7 years ago. We stopped twice. Creating a natural, silicone-free shampoo with enough slip for kinks and curls seemed impossible.
We raised money through a crowdfunding site to make this happen. We hired an R&D Cosmetic Science Intern and bought more unique raw materials, but we hit a road bump.
Without silicones, we just couldn't get slip. Finally, in summer 2018, we found the perfect naturally derived conditioning agent and things started to take off. We decided to shoot for the stars and we've spent the last year and a half working on getting Swirl just right.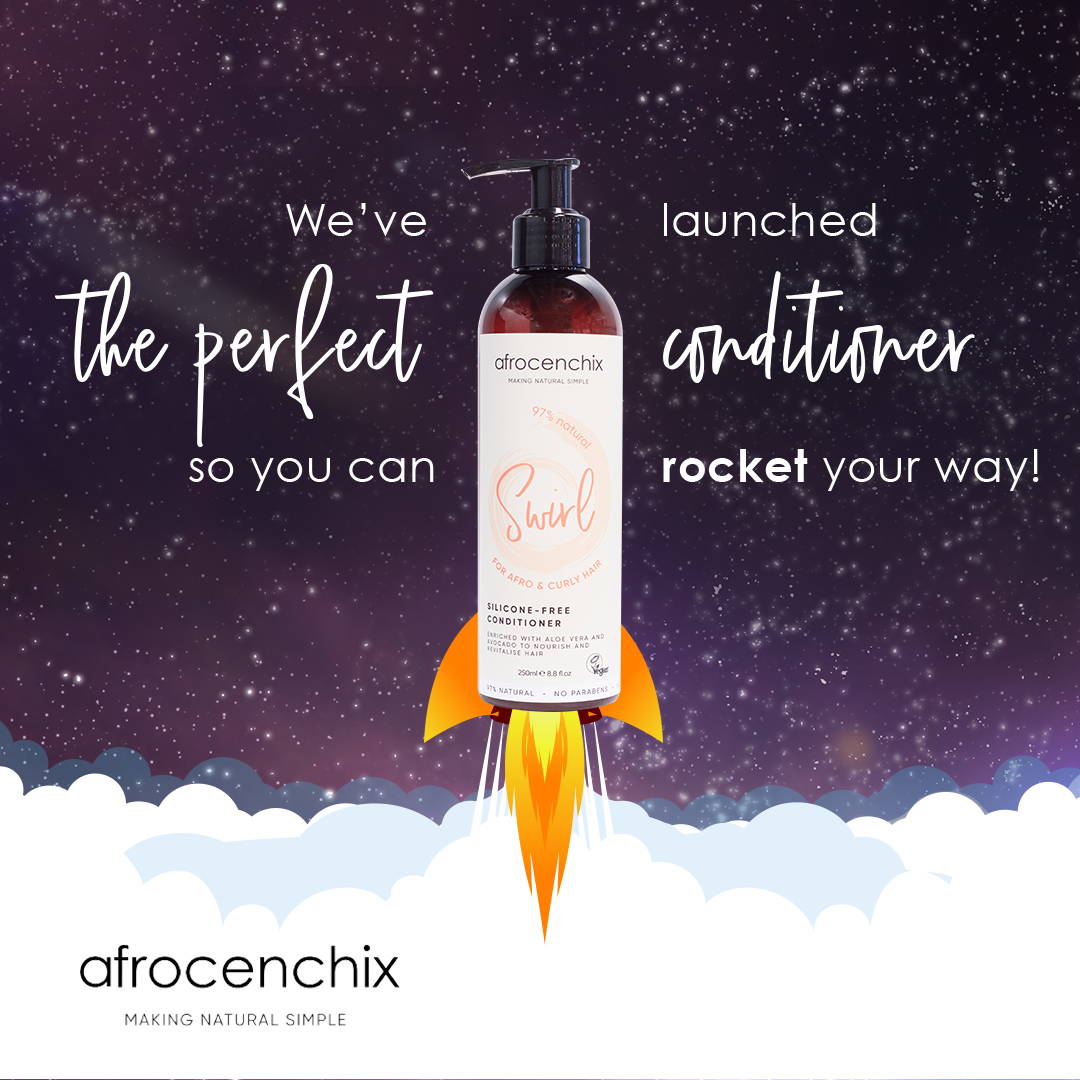 ---
💫 20 prototypes.
💫 17 ingredients.
💫 1 safe, effective, natural conditioner, ready to launch. 🚀
---
So why should you switch to Swirl?
1. The safe, natural and healthy choice: 78% of products for Afro hair contain toxic ingredients linked to cancer fibroids and respiratory issues. We're working hard to redefine beauty and put your health first. By buying from us, you're supporting a vision to change the industry and give you healthier choices.
2. Suitable for those with allergies: we test all our products on real people with Afro hair, including those with eczema and sensitive skin. Our conditioner is safe for the whole family and gentle enough to use on babies.
3. Gives you slip without the silicones: 17 ingredients and not a single silicone in sight. We believe you (and the planet) deserve better than micro-plastics and we worked hard to create the slip you need with naturally derived ingredients and only naturally derived ingredients.
4. Created by an award-winning business headed up by experts: top scientists around the country have been consulted and involved in our research and development process. Swirl was made by experts to give you the best for your hair.
5. Rigorously tested before launching on the market: Swirl went to consumer trial on several occasions and we kept tweaking and taking it back to trial until we got the unanimous response that this was an excellent product!
6. Environmentally friendly: carefully created to make sure that detangling doesn't clog drains and oceans with harmful micro-plastics.
7. Time saving: we made Swirl to stop you wasting precious hours detangling your hair. Wash day doesn't need to take all day when you use Swish and Swirl - so you have more time for your family, friends, side-hustles and career goals!  
I love the fact the natural ingredients in our Swirl conditioner perform so well that it speeds up wash day and gives me time to do other things!"
Rachael Corson
"I love Swirl because it makes my hair incredibly soft and makes hair styling a pleasure by cutting down the time I spend on my hair.
Joycelyn Mate
---
Get out of this world hair